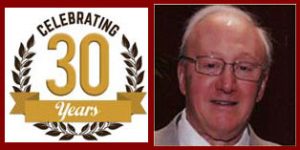 Our Permanent Deacon Gregory Bzdon is celebrating 30 years of service on April 27 !
Congratulations and thanks from the entire community!
Deacon Greg had some thoughts on this milestone :
"Well, I cannot believe it, but Apr 27th, marks 30 years in ministry to this great community.
It is sort of a reality check as I assume babies I baptized 30 years ago, now have babies of their own.
Thank you to this community on our journey together in Christ. May we continue to walk, talk, pray, work, laugh, cry, sing (I'd say dance, but those days are over.)
May we continue to grow on our journey of life."
Blessings to all,
Deacon Greg