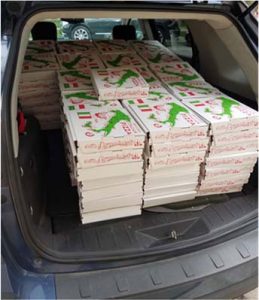 On July 8th, the St. Elizabeth of the Trinity St. Vincent de Paul Conference provided dinner to those in need.
Vincentians Arlene and Rich Muench delivered 120 individually packaged meals prepared by Phil's Pizza D'Oro to Catholic Charities in Des Plaines.
Thank you to all who contribute their time, talent and/or monetary gifts which make these types of outreach projects possible.
To get involved or for more information, please contact our Conference President Dave McNaughton – davidmcnaughton3@gmail.com or 773-621-7105.
May God bless you !
---