MAY 2021 UPDATE
The tabernacle has been restored beautifully as well as the chalices and ciborium.
Below,  there is a close-up shot of the new restored tabernacle with explanations about the symbols and words on it.
It really stands out now as the focal point of the church where Jesus is truly present Body, Blood, Soul and Divinity.
Thank you all for your generosity on these projects, hopefully these changes help you pray and increase your faith in the Lord's Presence and love.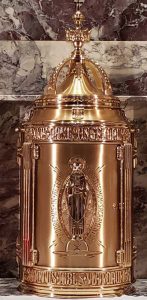 From the July 25, 1954 dedication book of St. Tarcissus Church :
THE TABERNACLE
The Tabernacle, the home of our Eucharistic Lord, is of genuine cast bronze.
On the door of the tabernacle is etched the figure of Christ holding the Host and ciborium. Around Christ are the words:
"Adoremus in aeternum sacratissimum sacramentum"
which mean "Let us adore forever the most Holy Sacrament."
In large letters at the top and bottom of the tabernacle is the first line of an ancient Eucharistic
hymn:
"Ecce panis angelorum, factus cibus viatorum"
"Behold the Bread of Angels has become Food for man."
Christ the King of the world stands on a globe on which is stamped His insignia – the Chi-
Rho. The Chi-Roe which looks like a X and a P are two Greek letters
equivalent to "CHR."
This familiar Christian symbol is an abbreviation of the word CHRist.
The crown-like top of the tabernacle represents the Kingdom of our Eucharistic Lord.
A rear door in the tabernacle enables the priest to get the Blessed Sacrament for Communion calls without having to interrupt the Priest who is offering Mass.
---
APRIL 2021 UPDATE
The two chalices and the ciborium are now back from being re-plated and they look glorious!
These were sterling silver to begin with and were cleaned and gold plated as needed. The ciborium was already being used in the tabernacle, but now is even more fitting to hold the Body of Christ.
The two chalices are ready for our own use or for visiting priests as well.
Please see the pictures below so you can see the result your generous donations .
The tabernacle is not completed yet but should be ready within a few weeks.
Father Mike will you posted as the renovations continue.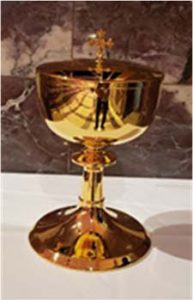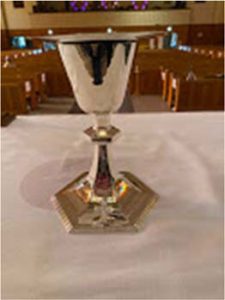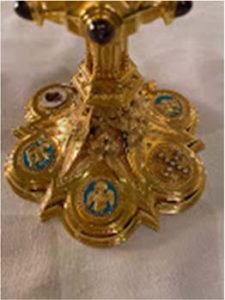 ---
MARCH 2021 UPDATE
Thank you for all those who donated for the tabernacle, ciborium, and two chalices that are being restored. We've raised enough money now for those specific items, over $8,500 was collected, praise God!