MINISTERS OF CARE Training UPDATE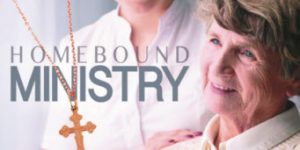 Have you ever considered becoming a Minister of Care, that is, bringing Holy Communion to the homebound or to those in nursing homes?
The next training sessions for this spiritually rewarding ministry will take place on two Saturdays, September 30 and October 14 from 8:30 am to 1:00 pm at Our Lady of Perpetual Help Parish Center, 1772 Glenview Road, Glenview.
Per Archdiocesan guidelines, it is important that new Ministers of Care attend both Saturday training sessions to be mandated. 
Chaplain Rick Nash and Jim Vlazny, Coordinators of the Ministry of Care at OLPH, will facilitate this training program.
Attendees must attend both Saturday sessions to be mandated as a Minister of Care in the Archdiocese of Chicago.
You may contact Tony Lupinski through the Parish Office for more information or to register.

Ministers of Care have concern for the vulnerable elderly and sick of the parish. They are practicing Catholics who visit shut-ins in their homes or nursing homes, bringing them Holy Communion and connecting them to the Parish.
They are parishioners who have received training over a six week period, in making visits and in the theology of the Eucharist. They are lay parishioners trained and mandated by the Archdiocese.
We would like to extend our services to bring Communion to all who are in need. Anyone wishing to receive Communion should call the Rectory at 773-763-8228 and make your request. You do not have to be permanently housebound. We are glad to bring Communion to anyone who may be recovering from an injury, short illness at home, treatments which debilitate, hip or knee replacement, or weather related problems for whatever time period you may want, whether long or short.
The ongoing COVID situation may necessitate changes in this program so please contact the Rectory for the latest updates.
We make visits only upon requests and only for as long as desired. You may start or stop as you wish. We urge you to take advantage of this spiritual opportunity.
Want to be a Minister of Care? – Become A Minister of Care
"When you do this to the least of my brethren, you do it to me."
If you are looking for a new way to express your faith, bringing communion to those who cannot come to church is a fulfilling experience. The homebound and those in nursing homes appreciate being able to receive Jesus in Holy Communion. It gives them spiritual comfort and a link to the parish.
Home visits are usually made on Sunday, but other days are possible. The visits take a minimum of 15 minutes or longer if desired. You may decide to visit one or more homes on a given day. We also visit two nursing homes, requiring one and a half hours usually once a month, sometimes twice. We presently have an opening at a nursing home.
If you are interested in this ministry or have any questions, please call the Rectory at 773-763-8228 . We will need to arrange to interview and register you before the sessions begin.