Pictures and Videos of Previous Events
Feast of St. Tarcissus Celebration
August 17 and 18, 2019
From the Desk of the Pastor – Bulletin Article on August 25, 2019
On Sunday, August 18, 2019, our Feast of St. Tarcissus went off better than might have been expected given the thunderstorms early in the morning which scared away some of our guests. But to the many who attended they had a good time and we were able to bring Christ to the streets and ask the Lord, through the intercession of St. Tarcissus, to watch over and bless the parish. As you might imagine, a lot of work went into making this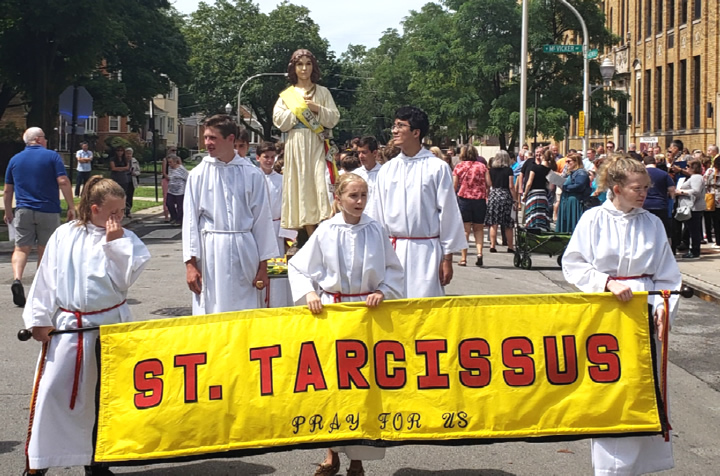 For a second year in a row, Ellen Moosa has taken the main lead in organizing everything and being the chairperson for the event. She got the permits, ran the meetings, created a comprehensive binder and checklist of all the things needed. She even made the lovely banner that our servers carried in the procession. This would never have been the success that it has been without her… thank you Ellen.

A quick shout out to FOST team members like Melissa Moroco and her sister Michelle, the Holy Name Society headed by John Goworoski who purchased and cooked the food. Adam Pabst was able to get the two large tents donated for free and set them up. Dave McNaughton and some of our police officers kept the streets safe and secured for the procession. The Women's Club, Shawl Ministry and SPRED groups provided the wonderful home baked sweets and desserts. Mr. Wuich organized our teen volunteers for setup and takedown of the tables and chairs. Fr. McCarthy recruited our servers for the procession (about 40 this year).

For a second year in a row we had the pleasure of hearing Todd and the Tenpins on music. There was a bean bag tournament that Mr. Wuich carried again (organized by Kate Shewchuck). There was also a popular tent for the kids who made some kinds of bracelets or necklaces, I think. All in all I think it was a great turnout and a positive way to start the school year. For anyone that I forgot to mention by name, the Lord knows your goodness and your reward will be great in heaven.
God bless you,
Fr. Mike Grisolano