Pictures and Videos of Previous Events
Spiritual Life – St. Tarcissus Children's Choir participates in the Pueri Cantores Festival
November 20, 2010
O Come, let us sing unto the Lord!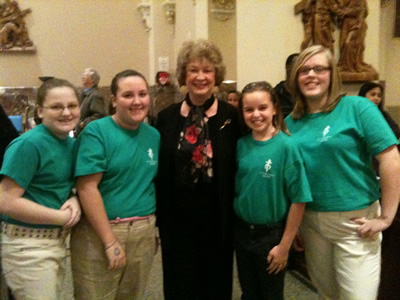 On Saturday, November 20, members of the St. Tarcissus Children's Choir joined 100 other young singers from Chicago area parishes for the Pueri Cantores festival, a celebration of the gift of sacred music. These remarkable young people spent their Saturday rehearsing music with one other, learning and singing the sacred music of the church.
Dr. Christine Jordanoff, a professor of choral music at Duquesne University, gave the singers vocal and musical coaching on the repertoire. She also talked about what it means to be a part of a choir: The singers learned that a chorus is not merely 100 soloists singing at the same time, but musicians who put their personal style aside for the greater good of the ensemble. Ms. Jordanoff also shared her own experiences as a young student in a Catholic school, and how the opportunity to sing the Mass eventually lead her into a career as a musician and teacher.
Highlights from the singers' perspective included coming together with the students from the other schools to form a choir with a full sound. Rehearsals were also fun, as the singers used different types of movement and gestures to unify the choir's sound into what one singer described as "professional!" The experience of singing in a reverberant space was also exciting. As one singer exclaimed, "It sounded like way more than 100 people!" The singers also enjoyed time relaxing together during lunch and the car trip.
The fun of socializing, rehearsing, and accomplishing new levels of musicianship lead us to the pinnacle of the day: singing to the Lord in the Mass. The festival choir sang the 5 pm liturgy at St. Benedict Church, with Bishop Kane presiding and encouraging the students as they continue to use their gifts for the glory of God. The liturgy ended with a most fitting piece of music (also the favorite of everyone in our group!), an uplifting setting of the words "Te Deum laudamus – We praise thee, O God!"
Many thanks to our Children's Choir parents, chaperone Patty Lucas, and Fr. McCarthy and the staff of St. Tarcissus for supporting our participation in the festival – and kudos to the singers for all of their hard work and beautiful singing!
It was truly an inspiring, memorable day. As one singer said… "when's the next one?"
Laura Kempa, Director of Music