Pictures and Videos of Previous Events
Parish General – St. Vincent de Paul Society "Backpack Project"
November 11, 2015
Conferences Distribute Backpacks to Help the Homeless
Written by guest contributer Hannah Henry, DePaul University Student
On the evening of a rainy November 11, 2015, members of the St. Tarcissus and Our Lady of Victory conferences distributed 25 oversized backpacks to the local homeless at the food pantry located at St. John's Lutheran Church. Each backpack was filled with various outdoor living essentials to aid the clients for the upcoming winter season.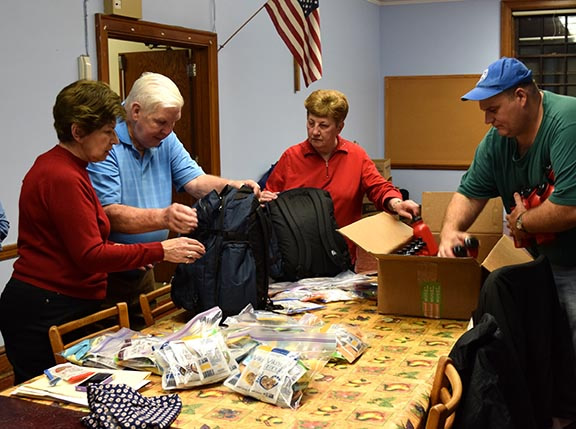 After seeing something similar on the internet that sparked his interest, St. Tarcissus Conference President Mark Stemper, spearheaded the efforts of the Conference in gathering cash donations and items to be contained in the backpacks.
"They're homeless, and they need something. We are trying to help those that live in our neighborhood," Stemper said. "They get hope knowing that someone cares."
From September through November, the members of the St. Tarcissus Conference, working in concert with one another in the spirit of Frederic Ozanam, collected and assembled the backpacks. Carol Reardon from Our Lady of Victory Conference was in charge of distributing the backpacks.
The backpacks were twice the size of a normal child's backpack and were donated by a member of the parish. The St. Tarcissus Women's Club and Shawl Ministry made a hat and scarf for each of the clients along with a sleeping mat made out of recycled plastic grocery bags. Heavy duty vinyl ponchos, new shirts, gloves, socks, hand warmers and various toiletries were some of the purchased items. Donated items included energy bars from Boy Scout Troop 969, water bottles, toothpaste and toothbrushes from a local dentist, fleece blankets, and flashlights.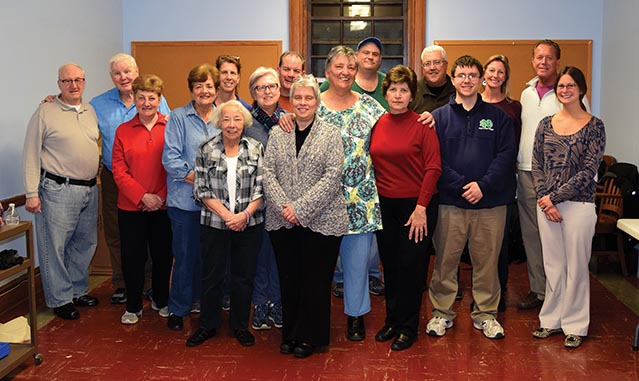 Dolores Fallon, the documentarian for the project said, "When we asked for help, it was there. Many people from the Parish Community stepped forward to contribute and to help the night we assembled all the items."
The first person to receive a backpack was an 86-year-old woman who asked, "Is this for me?"
"It is a warm feeling to see someone who is benefiting from your good work. It just makes you feel good," Fallon said after seeing a client wearing one of the backpacks.
This backpack idea has spread to other conference presidents and St. Vincent de Paul organizations that are looking to do this project this year. "In November, most people think of what they are thankful for, so this was our way of giving thanks," Stemper said.