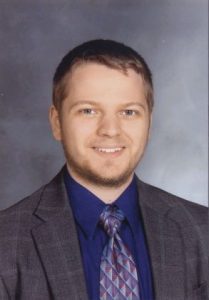 My name is Mark Wozniczka and I am blessed with the opportunity to serve as your Music Director at St. Elizabeth of the Trinity Parish. 
My musical journey began with attending Mass at Saint John Brebeuf in Niles, where I was quite fond of singing songs and hymns. I joined my school band (clarinet and trombone) and eventually began to cantor at Masses.
I studied music education at The VanderCook College of Music and the University of Florida and have been teaching music at Saint Patrick High School – Chicago since 2013.
In 2015 I joined St. Thecla as the musician for Polish Mass and cantor for English Mass, eventually becoming the parish Music Director.
I am happily married to my supportive wife, Joanna, and we have two energetic young boys. In what little free time I have, I enjoy woodworking and learning how to build/fix things.