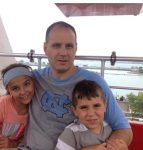 My name is Mike Wuich and I am the Youth Activity Coordinator at St. Elizabeth of the Trinity Parish.
I have been a teacher in this building, first St. Tarcissus, then PFGA and now St. Elizabeth, for 25 years. Regardless of the school or parish name, the one common denominator (pun intended!) is that we have the greatest, most supportive community of families anywhere. I'm looking forward to working with your children in the fall.
In addition to teaching Math, I have been an 8th Grade Homeroom teacher, Academic Bowl Moderator, Mathletes Coordinator , and s the Student Council Moderator.
I also assist the Athletics Program and will be coordinating Parish Youth activities in the fall for both junior high and high school parishioners. I love supporting our athletic teams as much as possible as well.
I love sports of any kind, and I am the biggest North Carolina Tar Heel fan around! I also like movies and TV as well as spending time with family and friends.