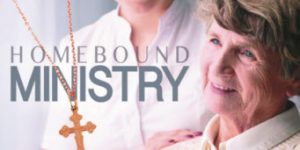 Have you ever considered becoming a Minister of Care, that is, bringing Holy Communion to the homebound
or to those in nursing homes?
The next training sessions for this spiritually rewarding ministry will take place on two Saturdays, April 15th
and April 22nd at Our Lady of Perpetual Help Parish Center, 1772 Glenview Road, Glenview.
Per Archdiocesan guidelines, it is important that new Ministers of Care attend both Saturday training sessions to be mandated. There will also be one local session to learn how the Ministry is carried out in our own parish.
Due to the potential for COVID-19 transmission, all attendees of this Ministry of Care training program must provide proof of vaccination, but booster vaccinations are optional.
Only those who have the endorsement of Father Mike or the Minister of Care Coordinator, Tony Lupinski, will be accepted.
You may contact Tony Lupinski for questions or to be interviewed at 773-454-2169.