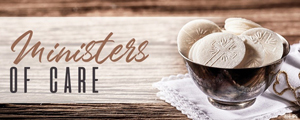 Beginning the first weekend of March, the people that bring Holy Communion to the homebound will again receive their pyx (the container that holds the Holy Communion) at the end of Mass, at the foot of the sanctuary.
This practice had been interrupted due to Covid.
This ritual publicly shows everyone that these ministers are going out on our behalf; in essence they are bringing the parish to those who cannot be with us.
If you know of someone that is homebound and would like to receive Holy Communion please contact the parish office so arrangements can be made.