The New School of Saints Cornelius, Tarcissus and Thecla
St. Elizabeth of the Trinity School (as of July 1)
St. Elizabeth of the Trinity School Website
https://stelizabethtrinityschool.org/
6040 W. Ardmore Avenue Chicago, IL 60646
Phone: (773) 763-7080 – Fax: (773) 775-3893
Principal – Dr. Hillmann's Email Address – k.hillmann@stelizabethtrinityschool.org
Director of Parish Operations – Kathy Collins' Email Address – k.collins@stelizabethtrinityschool.org
—————————————-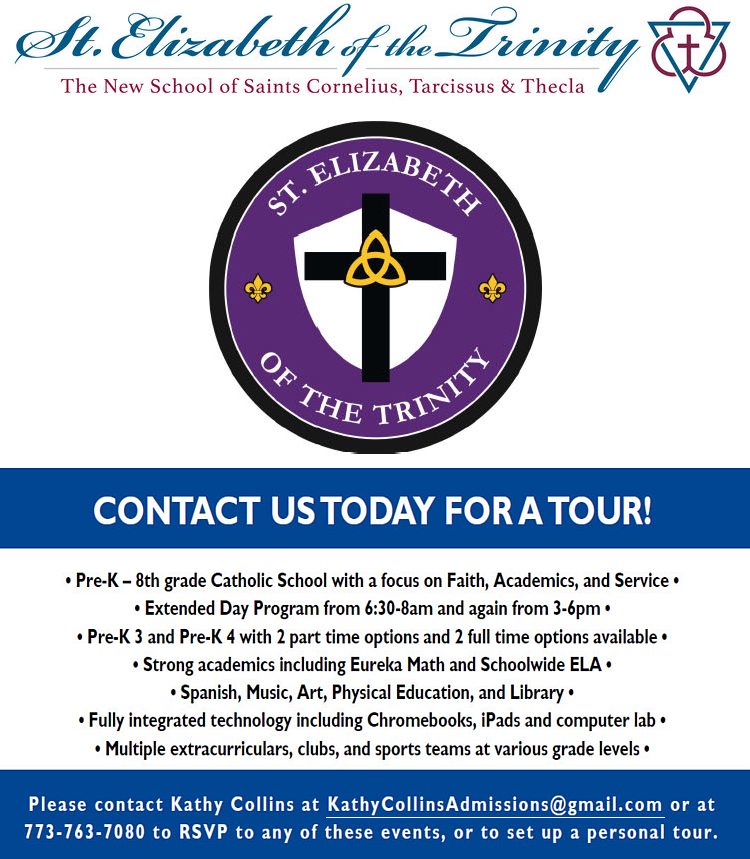 —————————————-
PARISH BULLETIN ARTICLE – JULY 19, 2020
From the Principal
As many of you are aware, St. Elizabeth and all Archdiocesan elementary schools WILL be opening in August! The staff and I are very excited to not only be welcoming your students back, but welcoming them to our new school – St. Elizabeth of the Trinity!
The Archdiocese released their Re-Opening guidelines last week to all principals, as well as a summary sheet to parents. I want to ensure you that we are going to do everything in our power to ensure that students are returning to a safe environment. I will be working diligently with staff and parents to accomplish our goals of re-opening with the safety of staff and students in mind. I am also aware of the challenges posed with the re-opening guidelines, such as the wearing of masks. I do encourage you to practice with your students wearing them for an extended period of time, even if you have to start out small and gradually increase the time. I know that this will be difficult for our staff and students, so please rest assured that as a staff we are developing ways to help students wear their masks that will not inhibit their learning, such as a "mask break" for our younger students, outside six feet apart. In no way will this be an easy task, but we are committed to our students, their health, safety and education!
When the details of the St. Elizabeth plan have been finalized, I will be sharing them with you through School Messenger. I will also send bi-weekly updates once St. Elizabeth's School Messenger account is set up and we can access it. In the meantime, if you have any questions or concerns, please feel free to reach out to me at: k.hillmann@stelizabethtrinityschool.org (Don't forget the dot, nor the 2nd N in Hillmann!)
I cannot wait to meet all the students and families of St. Elizabeth and I wish you a wonderful rest of the summer!
Kristine Hillmann, Ed.D.
Principal
—————————————-
PARISH BULLETIN ARTICLE – JULY 1, 2020
Dr. Hillmann's Email Address – k.hillmann@stelizabethtrinityschool.org
Kathy Collins' Email Address – k.collins@stelizabethtrinityschool.org
FACTS tuition will all be corrected and the current St. Elizabeth of the Trinity tuition rates will all be applied. Sorry about the confusion.
The Website has all the supply lists on it as well as much more information: stelizabethtrinityschool. org – Please "LIKE" our Facebook page.
Teacher bios and pictures are on both the website and Facebook..there are more to come.
Dennis Uniforms are available for St. Elizabeth. The code is located on the website.
St. Thecla and PFGA uniforms may also be worn the first year.
St. Elizabeth of the Trinity – A School of the Archdiocese of Chicago
We are a faith-based school dedicated to academic excellence driven by our by Catholic values and a strong commitment to educating our students to become not only be well-rounded individuals but be contributors to the larger community and to society as a whole.
St. Elizabeth of the Trinity was formed as a result of the merging of four historic Chicago Catholic Schools – St. Tarcissus, St. Thecla, St. Cornelius and Pope Francis Global Academy.
In this time of difficult choices, this consolidation offers a strong option for families on the Northwest side of Chicago looking for Catholic education.
—————————————-
PARISH BULLETIN ARTICLE – JUNE 14, 2020
Dear St. Elizabeth of the Trinity School Families,
With the conclusion of the 2019-2020 school year, the Archdiocese of Chicago has formally announced their intent to reopen all school buildings for the new school year.
Additionally, now that contracts have been offered and returned, I would like to update you on the faculty for the 2020-2021 school year. The following positions have been filled by these teachers:
PreK 3 & 4: TBD
Kindergarten: Ms. Kathy Becker
First Grade: Ms. Liane Skolak
Second Grade: Ms. Mary Ellen Gold
Third Grade: Ms. Ida Capone
Fourth Grade: Ms. Eliza Hamer
Fifth Grade: Ms. Kelly Szlak-Aimone
Junior High ELA: Ms. Mary Petrash
Junior High Science and Social Studies: Ms. Katherine Dati
Junior High Math: Mr. Mike Wuich
Junior High Religion: TBD
Resource Teacher: Ms. Molly Pyzyk
PE & Technology: Ms. Carla Nuzzo
Library: Ms. Maria Nano
Spanish: TBD
Art: TBD
Music: TBD
Lastly, as in with any organization, people choose to leave for various reasons and have to do what is best for themselves and their families. Unfortunately, while positions were offered to the following teachers, they chose not to accept positions at St. Elizabeth of the Trinity as they have decided to pursue other educational opportunities: Mrs. Alyssa Riehle (PreK), Mrs. Laura Bartuce (First Grade), and Mrs. Melissa Powers (Fifth Grade). We wish them all the best in their future endeavors. Please know that we have already begun the interview process for the open positions and have many qualified candidates.
Wishing you all a healthy and safe summer,
Margaret Kinel