PARISH AND COMMUNITY EVENT – Station School and Sharing Families Project
SCHOOL PICTURES OF HOW WE BEGAN AND HOW WE ARE NOW
We began here!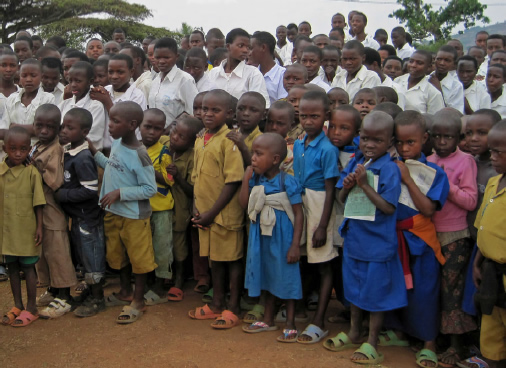 Here is where we are now!
Father Denis took the photos below of the children and said that the day was an event for the entire community. Everyone came out to watch, as the excitement of the children was infectious. They were overwhelmed, as they received our gifts of much needed supplies and the opportunity to go to school.
When the original photos (one listed below) were taken, the children had no idea what was happening. I asked Father Denis about the experience of the day he went to see the children receive the supplies and if this was the first time that the children had their photos taken, he said,
"Hi Bobbie, I can say in the affirmative that it is true some of them were taken photographs
for the first time in life. May be some were feeling overwhelmed by the school items,
for it was a great sign of love and care shown to them by some one whom they had never seen.
It was like some one from far has become like them and known what
they really need for their life and education."