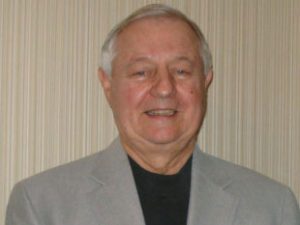 Richard Muench recently became a member of St. Elizabeth of the Trinity Parish after having been a member of St. Cornelius Parish for 65 years.
For more than 40 years I have been a Minister of Care, a ministry I find more rewarding every year.
My professional background includes work in banking, both investment and
commercial, and owning and operating a venture capital business.
I started my journey through Catholic education at St. Andrew's Grade School and moved to St. Ferdinand's Grade School and then Campion Jesuit High School and Marquette University and finished at Northwestern University with a Masters Degree.
My wife Arlene and I raised six children, who attended St. Cornelius Grade School and Loyola and Regina High Schools.
We now have 15 grandchildren and five great-grandkids. All live fairly close by, so that keeps us busy.
I just retired as Chairman of the American Hearing Research Foundation, after serving on the board for 40 years. We give grants ($325,000 this year) to researchers at American universities looking for ways to improve hearing and balance disorders. It has been very gratifying to see the progress that has been made in hearing impairment.
I hope and pray that they highly talented St. Elizabeth of the Trinity Parish Council we have in place will produce similar results in praising God and recognizing our parish for all the good works our parish can and will accomplish.