NEXT MEETING IS MONDAY SEPTEMBER 25, 2023 7:00 PM
JUNIOR HIGH BUILDING – ART ROOM
ENTER THROUGH EITHER ARDMORE OR MOODY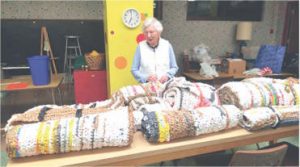 Please continue to make prayer shawls, lap robes, scarves, and hats at home.
The need is still there.
If you need supplies, please call Carol at 773-775-1649.
---
Our September 2021 meeting started with a bang ! 98 year young Marie Brasher brought in 11 plastic mats she made at home during the pandemic. What a great use of "at home" time !
Other members brought in scarves, hats and prayer shawls which will be distributed to those who need them through the St. Vincent de Paul Society.
It is indeed inspiring to see our members thinking about and helping the less fortunate during this difficult time.
We would love to see new members at the October meeting ! Use your knitting or crocheting skills or learn about making the plastic mat.
---
The Prayer Shawl Ministry is a group who knits and crochets prayer shawls for people who sad, sick or need to be enfolded in the warm prayers of other parishioners.
We've also done baby blankets for the Women's Center and made scarves and hats for the St. Vincent de Paul Christmas Giving Program.
We will meet once a month in our new space in the ground level art room of the Junior High building.
We are looking forward to coming together  in friendship and providing comfort for those that need it.
For more information, please contact Carol Ideler by email at acideler@aol.com .