The Night Players Community Theatre Group is a theatre group that provides an outlet for performers as well as individuals who enjoy the technical and production ends of theatre. Based upon requests from the regular participants and audience suggestions, as well as research, the Night Players Board chooses plays annually.
Since its inception in 1985 and including the last show in 2019 , the group has performed 42 productions including musical and improvisational shows.
Participants are male and female in every age group with varying degrees of theatrical expertise. Night Players also supports many parish events and hosts the parish St. Joseph Table. The performances are always the first two weekends in November.
Shows are usually the first two weekends in November. The Night Players Community Theatre Group is looking forward to coming together again soon!
For more information, contact JoAnn Keto at (773) 426-6378.
In addition to building community over the years, the Night Players group has made contributions to the parish upwards of $50,000, both financially and with equipment upgrades to the stage and Parish Auditorium, from proceeds of the performances.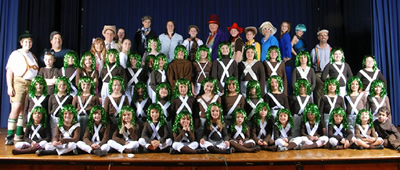 WILLY WONKA – November 2009
A short History of the Night Players
The Women's Club produced the first few shows. At the time, JoAnn Keto was president of the Women's Club and when she presented the idea to them, they were more than happy to back the shows.
Initially it was one weekend of 5 performances; i.e., one on Friday night and two each on Saturday and Sunday. It was a dinner and show event and the Women's Club served dinner in the cafes. The guests then came up stairs for the performance. We made $11,000 that first endeavor and it was a tremendous amount of work.
The second year dinner/show; however, the meal was upgraded so the profit was less. The third and fourth shows were the same; however, we hired a caterer to do the work… less income, but more fun for the Women's Club members.
Eventually, the Women's Club was asked if the Night Players could divest from their guise and the Night Players continued on as separate self-supporting group till this present day.