About Our Shrines and Statues
The Infant of Prague
« Back to About Our Shrines and Statues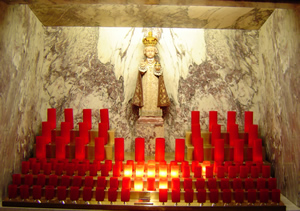 Devotion to the Infant Jesus is as old as Christianity itself. It ever tends to keep the great mystery of our Lord's birth vividly before us.
A special devotion to the Divine Child originated with the Carmelites in the city of Prague, Bohemia, in the beginning of the seventeenth century. Princess Polyxenia of Lobkowitz had received as a wedding gift from her mother a statue of the Divine Child, previously brought from Spain. After the death of her husband, the princess devoted herself to works of charity and was particularly helpful to the Carmelites in Prague. When in 1628 the Carmelite Monastery had been reduced to poverty, owing to the ravages of war, the princess gave her precious statue to the Carmelites, saying:
"I give you what I prize most highly in the world; honor and respect the Child Jesus and you shall never be in want."
Her gift was placed in the Carmelite oratory. The words of the princess proved prophetic, for as long as the Carmelites kept up their devotion to the Divine Infant of Prague everything prospered with them. The Carmelites were later forced to flee from the city and in the confusion of the war they were unable to take with them their miraculous statue. The invaders seized it and threw it into a pile of rubbish. In 1635, peace came to Prague and the Carmelites returned. One of them, Father Cyril, who had previously received great spiritual help through his devotion to the Infant of Prague, sought the statue and found it amidst the rubbish. Overjoyed, he placed the statue again in the Oratory. As Father Cyril was one day praying before the statue, he heard a voice saying: "HAVE MERCY ON ME AND I WILL HAVE MERCY ON YOU. RETURN MY HANDS TO ME AND I SHALL GIVE YOU PEACE. THE MORE YOU HONOR ME, THE MORE I SHALL BLESS YOU". Startled by these words, Father Cyril examined the statue and upon drawing aside the mantle covering it, he found that both hands of the statue were broken off. The hands were restored to the statue through the generosity of a client of the Divine Child. Once more peace and prosperity returned to the Carmelites.
The confidence of those who appeal to the Divine Infant in their needs has been through the centuries many times richly rewarded. The original statue of which ours is a copy, is made of wood covered with wax. It is about nineteen inches high. The right hand is raised in blessing and the left hand holds a globe, symbolic of the Divine Child as King of the whole world.