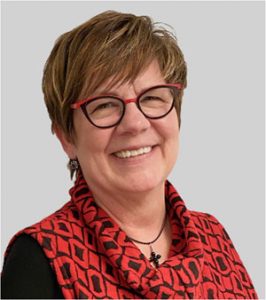 One door closes and God opens another!
I have the good fortune of being able to retire after a 40-year career in banking & investments.
For months, my husband, John, has been asking me when I was finally going to retire and what my plans would be for retirement. My response was always: "I don't know … I'd like to get more involved in the parish when I finally do decide to retire."
And then came the Sixteenth Sunday in Ordinary Time (don't worry if your internal spiritual clock is not automatically set to the rhythm of the Liturgical
Calendar – we have a Faith Formation program to help with that!).
Luke's Gospel on July 17th was about Jesus' visit to the house of Mary and Martha. Mary remained seated at the feet of Jesus, listening intently to the words of Our Savior, while Martha was busily working as the "hostess with the mostess" to serve their honored guest.
When Martha asks Jesus to tell Mary to help her with the chores, Jesus' response spoke to me: "Martha, Martha, you are anxious and worried about many things. There is need of only one thing. Mary has chosen the better part."
And then a week later, Father Mike called, inviting me to step up
to the role of Coordinator of Religious Education. And I knew this was the opportunity to choose "the better part"; to leave the corporate world and spend more time being present with the Lord, doing His work.
I have had the privilege of preparing middle schoolers for the Sacrament of Confirmation for nearly ten years; first at St. Cornelius, and more recently at St. Elizabeth of the Trinity.
Just by being a part of the RE Program, I have learned so much about our rich Catholic beliefs, the power of faith, the way God works in our lives, in the classroom, and in our families, when we let Him in.
Our families and communities need strong, faith-filled youth to keep the light of Christ burning in a world that is increasingly starved of brightness and goodness.
I look forward to helping your children experience the light of Christ and how to carry it with them as they grow. I invite you to join me and the wonderful team of catechists to support the RE program in any way you can.
God opens the door, and we welcome you in! May our great and
merciful Lord continue to bless the parents and guardians of the children of St. Elizabeth of the Trinity.