QUEEN OF HEARTS DRAWINGS HAVE MOVED TO THURSDAY EVENINGS !
THE APRIL 22 DRAWING – 8:00 PM 
JET'S PUBLIC HOUSE
6148 N. MILWAUKEE AVENUE.
WINNERS EVERY WEEK !!  While you might not win the big money there is a guaranteed winner each week.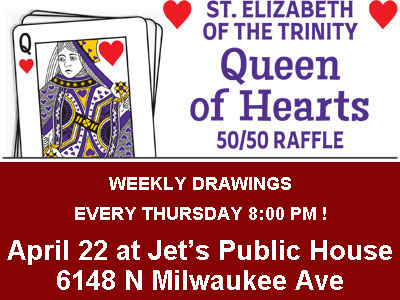 Tickets are $5.00 each (cash only) and the raffle benefits St. Elizabeth of the Trinity.

Click Here to Visit Our QOH Facebook Page – Includes Videos of Drawings !
Tickets are also available after all of our weekend masses!
Winner Need Not Be Present.
Jet's Public House
6148 N Milwaukee Ave
Tickets also available at :
Highway House
5653 N Northwest Hwy
Paternos Pizza
5303 N Milwaukee Ave
Vaughan's Pub & Grill
5485 N Northwest Hwy
Weston's Coffee and Tap
4872 N Milwaukee Ave
Tickets also available at the St. Elizabeth rectory and after weekend Masses.
Support these local businesses and our Parish !
Tickets available for purchase at the above listed establishments during their regular business hours. Winner does not have to be present at the drawing.