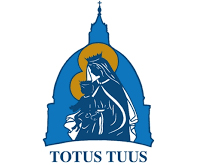 Totus Tuus is ALMOST HERE !
JOIN US AT THE PARISH POTLUCK ON SUNDAY JUNE 26 AT 5:00 PM !
Totus Tuus Summer Youth Camps are an opportunity for students entering Grades 1 through 12 to experience a spiritual and social retreat designed to inspire in young people a true longing for holiness, a deep desire for daily conversion, and an openness to their vocation by challenging them to give themselves entirely to Jesus Christ through Mary and by continually
strengthening their lives of prayer in imitation of her.
Totus Tuus will be held from Sunday June 26 through Friday July 1, 2022 at St. Elizabeth.
Students entering Grades 1-6 will participate Monday through Friday from 9:00 a.m. to 2:30 p.m.
Students entering Grades 7-12 will participate Sunday through Thursday evening from 7:00 p.m. to 9:00 p.m.
Both groups will grow in their faith through skits, games, songs, the celebration of the sacraments, and engaging, interactive teaching.
Please see our Registration Brochure for more details including how to register and pay for your student; details on the Totus Tuus program; what your student should bring to camp; and details on how parents can help!
We have created an FAQ to answer many of your questions but you can also contact Kathleen Driscoll at The St. Elizabeth Rectory :
call 773-763-8226 or email kadriscoll@archchicago.org