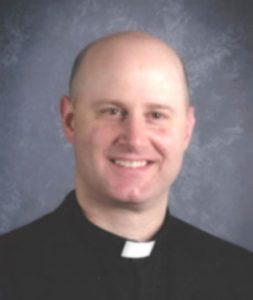 Father Michael Grisolano is the Pastor of St. Elizabeth of the Trinity Parish.
I was born and raised in Chicago Ridge, a southwest suburb of Chicago. My parents and three sisters and brother along with their families still live in the Chicagoland area. We all attended Our Lady of the Ridge Grade School and I went to Marist High School.
I then studied at the University of Illinois in Champaign/Urbana and graduated with a Bachelor of Arts in History. I worked for four years after college before discerning a call to the priesthood.
I entered Mundelein Seminary and was ordained a priest for the Archdiocese of Chicago in 2012.
As a priest I served as Associate Pastor at St. Julie Parish in Tinley Park from 2012-2015. I was also the Associate Pastor at St. Damian Parish in Oak Forest from 2015-2017.
I was named to be the Pastor of St. Tarcissus Parish in Chicago starting July 1, 2017. In 2020, I was so proud to be named the Pastor of the new  St Elizabeth of the Trinity Parish.