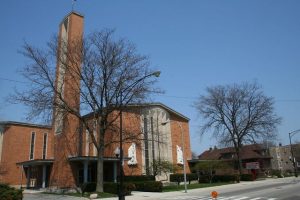 Beginning in 1926, St. Cornelius served generations of Catholics who have made Jefferson Park their home. It has also supported the neighborhood through community-wide fall events, and a source of charitable service through its organizations such as the Food Pantry.
The large campus sits on the Northwest side of Chicago on a triangular plot in an attractive section of the city and bounded by Gettysburg, Lieb, and Long Avenues. The church building stands prominently on Foster Avenue.
In 1925, Cardinal George Mundelein appointed Father Luke Lyons to found a parish for the English speaking residents of Jefferson Park. It was established on September 23, 1925. Pope St. Cornelius, 251 A.D. to 253 A.D. was selected to be its patron.
The first Mass was celebrated on October 4, 1925 in the assembly hall of Beaubien School on North Laramie Avenue. Bishop Edward J. Hoban dedicated the church and school and the first Mass in the combination church, school, and convent was celebrated on August, 29, 1926. On December 2, 1926 three Sisters of Charity of the Blessed Virgin Mary opened the school. A bungalow located on North Lieb Avenue served as a Rectory, office, and living quarter for the priests.
In the 1920's the area experienced a growth in population which resulted in a fantastic explosion of members in the parish. By the 30's the parish numbered 800 families and the school enrollment had increased to 400 students.
Father Lyons served as pastor for 19 years until 1944 when the Reverend James Rooney was appointed to succeed him. In 1950 Fr. Rooney built a rectory and a new convent and converted the convent rooms in the school building into classrooms to accommodate a growing enrollment.
By 1960 the school enrollment was 800 and the church could not accommodate the number of Sunday worshipers. Land was acquired on Foster Avenue and the present church which can accommodate 750 worshipers was built in 1964 and dedicated in 1965. The new building also included a lower chapel for additional Sunday and Christmas Eve Masses. During the 80's parish membership grew to 2,500 families. 
In 1959, Monsignor John Gleason was appointed pastor and he was succeeded by Father Marion Matlak in 1974. Father Edwin Pacocha became the fifth pastor in 1986. During his time at St. Cornelius the downstairs chapel was converted into a community center and an elevator was added. He served until 2008 when  the Reverend Daniel Fallon was appointed by Cardinal Francis George. Father Fallon oversaw remodeling of the church exterior and interior which has included infrastructure repairs and the moving of the choir room into the church transept. 
St. Cornelius experienced an evolution in parish membership rich in new cultures. Its liturgies and celebrations include traditional Hispanic and Filipino celebrations and liturgies. Its young families continue to be dedicated to providing their school-age children with an education rooted in faith.
One of the greatest achievements of St. Cornelius Parish is the unique cooperation of all its members of various ages, interests, occupations and ethnic backgrounds as is evidenced in the activities of the parish organizations working together in mutual respect and Christian service.
St. Cornelius has always been committed to invite everyone into a loving and personal relationship with Jesus Christ through worship, education, and community.
The school reached its largest enrollment of 850 students in the 60's. The 1990's brought many additions to the school including technology, an after-school program, and preschool.
In August, 2016 St. Cornelius joined three other parishes: St. Pascals, St. Tarcissus and Our Lady of Victory to form the new Pope Francis Global Academy.
In 2020, St. Cornelius, St. Tarcissus and St. Thecla parishes were consolidated to form the new St. Elizabeth of the Trinity Parish and School.
St. Cornelius will continue to be a major supporter of Catholic education as part of St. Elizabeth of the Trinity Parish and School.
St. Elizabeth of the Trinity Parish and School