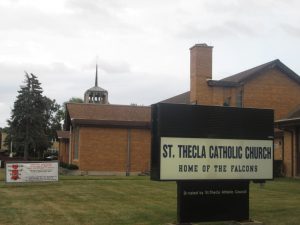 The birth of the Saint Thecla Parish dates back to 1923 when Father Francis Rusch, superintendent of the Saint Hedwig Orphanage near Touhy and Harlem avenues, was asked by a group of Polish workers at Saint Adalbert Cemetery to start a new parish in the area. Father Paul Sobota was chosen to organize the parish.
In the fall of 1924, a parcel of land at Devon and Newcastle avenues was acquired for $7,500, and construction of a church began a short time later. The first Saint Thecla Mass was celebrated on Aug. 15, 1925, and by 1926 the parish had 250 families.
Over the years, there have been several structural improvements to the campus in large part to the growing school enrollment in the 1950s. The present church, located at 6725 W. Devon Ave., was built in 1962, with a new rectory in 1973.
In 1999, construction began on the 14,000-square-foot Falcon Hall, which includes a large gymnasium.
In 2020, St. Thecla Parish – along St Tarcissus Parish and St. Cornelius Parish – merged to form the new St. Elizabeth of the Trinity Parish and School.
As a part of St. Elizabeth of the Trinity, St. Thecla Parish remains in spirit representing Faith with hearts and souls committed to Christ as a part of a vibrant neighborhood with faithful people who make disciples and inspire witness in the desire to create with God's grace, a healthy and safe place to live, a loving place to raise children, and a place where the time honored values of Christ are upheld.
We welcome you to join us!