JANUARY 2021  UPDATE
You'll notice some changes in the church to help reflect the blending of the three Parishes :
The candle sticks and creche are from St. Thecla.

The presider/

deacon chair, processional cross and Advent wreath are from

St. Cornelius

.

There are plans

 of getting a statue of St. Elizabeth of the Trinity and an image of her in stained glass up in


the choir loft that will brighten the church as well.
 Covid restrictions have made it very difficult to have the normal means of getting together as a parish outside of Sunday Mass and school attendance.
We will be planning some more town hall gatherings where people can come, perhaps after a Mass, and can raise questions or make suggestions about what could happen or what hasn't been happening in this unification that they think should.
In the next four to six weeks, we will be forming a basic Finance Council, Parish Council and Evangelization Team that will help in rolling out the "soft entry" to Jesus that is part of phase III in the Renew My Church process.
The goal of this merger is to help us grow in our discipleship.
---
DECEMBER 2020 UPDATE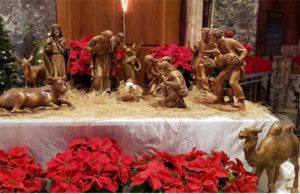 The icon of St. Cornelius will be put on display here at St. Elizabeth at a later date, along with the previously published picture of the statue of St. Thecla.
The Advent Wreath, presider's chair, deacon's chair and side table also come to us from St. Cornelius.
The beautiful Nativity Set comes to us from St. Thecla.
---
NOVEMBER 2020 UPDATE
The process of utilizing symbols from the component Parishes including the Processional Cross from St. Cornelius and the candles on the back altar from St. Thecla. More coming in the near future in this area as additional symbols are brought over.

The Unification Committee transition into more permanent councils (i.e. Finance

Council, Parish Council, and Evangelization team).

The volunteers on the Unification Committee have

been involved for about eight months and have offered constructive suggestions about what the parish can do to make the merge as unifying as possible.

There will also be something of a "tradition" committee with members from all three parishes to help advise

about how best to honor the past three parishes on this campus while helping build the new identity of


St. Elizabeth at the same time.
The hard work by all is greatly appreciated !
Please click here to read the full From the Desk of Father Mike… for more details.