DECEMBER 2020 UPDATE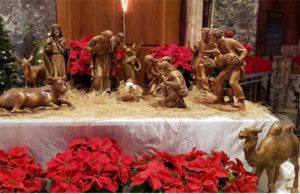 The icon of St. Cornelius will be put on display here at St. Elizabeth at a later date, along with the previously published picture of the statue of St. Thecla.
The Advent Wreath, presider's chair, deacon's chair and side table also come to us from St. Cornelius.
The beautiful Nativity Set comes to us from St. Thecla.
---
NOVEMBER 2020 UPDATE
The process of utilizing symbols from the component Parishes including the Processional Cross from St. Cornelius and the candles on the back altar from St. Thecla. More coming in the near future in this area as additional symbols are brought over.

The Unification Committee transition into more permanent councils (i.e. Finance

Council, Parish Council, and Evangelization team).

The volunteers on the Unification Committee have

been involved for about eight months and have offered constructive suggestions about what the parish can do to make the merge as unifying as possible.

There will also be something of a "tradition" committee with members from all three parishes to help advise

about how best to honor the past three parishes on this campus while helping build the new identity of


St. Elizabeth at the same time.
The hard work by all is greatly appreciated !
Please click here to read the full From the Desk of Father Mike… for more details.